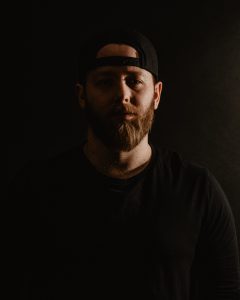 Hi, guys – I'm Joachim André Normannseth. I was born on June 21, 1993, raised and currently living in Tønsberg, Norway. My role in the band is being everyone's mom in the studio, it feels like it at least. Haha. Even though I'm the youngest and most childish. In all seriousness though, I'm the lead vocalist and guitarist and I take part in composing songs. I don't have any other side projects, except for having a few solo gigs using my loop station and acoustic guitar covering well known songs. I'm all about Third Season!
ΔHobbies outside of music and hidden talent(s)Δ
I get very easily interested in new things, but the ones I've stuck with for the last few years are a big hit to me. The thing that takes most of my time is disc golf. It's a lot of fun! I've played for a few years now, and I really enjoy it! Next to that I love to do theatre. I don't think I have any hidden talents, not that I know of at least. Haha.
ΔWhat kind of music do you prefer to listen to, who is your biggest idol and who is your favourite band,
and what inspired YOU to do music?Δ
I listen to a lot of different music, but I'm a rock head at heart. My favourite band is Biffy Clyro from Scotland, and their vocalist Simon Neil is easily one of my idols. They have both hard and soft music, but it's their melodies that hits, hits me, hits me hard (pun intended). There's a lot of other artists and bands that I like. Muse, Ed Sheeran and Mumford & Sons for example. What inspired me to do music was a lot of things. Music has always been a big part of me, and when I was introduced to AC/DC and their guitarist Angus Young, I wanted to learn the guitar. When I was introduced to Muse I wanted to get better at singing and learn the piano. So, there's a lot of people who've inspired me to develop.
ΔThree fun facts about meΔ
1.I've been a choir conductor.
2. I can barely see with my left eye.
3. I could eat tacos every day.
ΔOne fact about the band that people don't knowΔ
The hand gesture/sign that we do in our concerts was mostly improvised by me during one of our concerts (having an earlier conversation with the bassist in mind).
T.S Δ